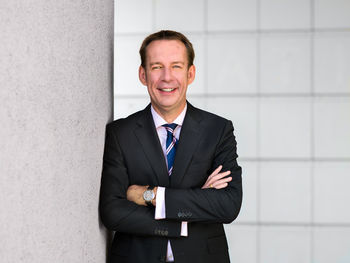 Authorized signatory
Senior Manager of IT Audit
Graduate in Economics
Certified Information Systems Auditor
Certified Information Security Manager
Certified in Risk & Information Systems Control
Certified Internal Auditor
Certified Data Privacy Solutions Engineer
Tel.: +49 221 952681-190
Fax: +49 221 952681-114
thomas.grigoit-auditcom
Thomas Grigo studied Economics in Münster from 1978 to 1983. Between 1989 and 1995 he worked for the Institute of Public Accountants in Germany (IDW) in Düsseldorf and also for the consultancy firms Arthur Andersen and Ernst & Young.
Additionally, Mr. Grigo was the Area Sales Manager for a financial services provider in Switzerland and departmental head for consultancy systems at Deutscher Sparkassenverlag.
Mr. Grigo has a qualification as an Internal Auditor (CIA) as well as from the German Institute for Internal Auditing (DIIR), as well as the qualifications IT Controlling Expert (CRISC), IT Auditor (CISA), and IT Security Expert (CISM) from ISACA, the global association of IT auditors.
Alongside his role as an authorized signatory and Senior Manager of IT AUDIT GmbH, Mr. Grigo also operates as an independent consultant and has auditing and internal auditing experience for insurance companies and supplementary pension funds.
Mr. Grigo is also a software auditor appointed by TÜV Informationstechnik GmbH, Essen. This enables us to offer combined audits to software providers in the municipal sector in accordance with the OKKSA criteria (www.okksa.de) and the IDW audit standard 880.